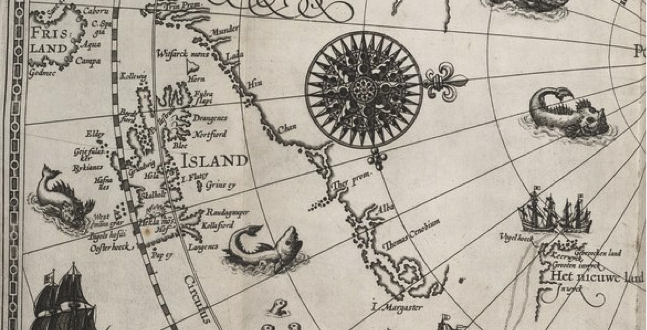 Find your way to the workshops at RBMS 2016!
An image from the DCRM(C) workshop
The 2016 conference again begins with a day for conference attendees to sharpen their professional skills. The Workshops Committee is excited to offer a slate of full-day sessions on Tuesday that address the changing needs of our profession. Workshops also give conference attendees a chance to professionalize (participants received a confirmation of contact hours at the end of the day) while engaging intellectually and socially with colleagues. Pre-registration is required for these opportunities, so be sure to register soon.
In Applying Descriptive Cataloging of Rare Materials (Cartographic), members of the DCRM(C) editorial team will introduce participants in their workshop to Descriptive Cataloging of Rare Materials (Cartographic), putting special emphasis on the differences between Descriptive Cataloging of Rare Materials (Books) and DCRM(C). The workshop is suitable for those with working cataloging experience who wish to be introduced to rare cartographic materials cataloging according to DCRM(C). Participants should have working experience in MARC AACR2 cataloging using Descriptive Cataloging of Rare Materials (Books) and/or Cartographic Materials: A Manual of Interpretation for AACR2.
For those with digital holdings (all of us?), librarians from the University of Florida, Gainesville remind us that Digital Humanities is What You Do with it: Going beyond Digitization in Special Collections. In this workshop designed for curators, librarians, and archivists who manage collections of born-digital and digitized material with a basic understanding of digital collections, participants will learn which digital humanities tools can be used in special collections libraries and how to apply these tools, techniques, and digital curation activities in their work. This workshop is sponsored by Voyager Press Rare Books and Manuscripts. Two of the instructors, Richard Freeman and Jessica Marcetti, invite you to learn more about the work they will be discussing. See Richard discuss MassMine here, and check out Jessica's work on Gainesville's Panama Canal Collection here and here.
Finally, in a workshop we brought back by popular demand, Daniel J. Slive and Edwin C. Schroeder share their insights and experiences Building Collections: Acquiring Materials and Working with the Antiquarian Book Trade. The session, which focuses primarily on printed materials, will be of interest to both curators tasked with building special collections and to collectors and members of the book trade. The purpose is to provide attendees with practical information which can be utilized for building collections and developing beneficial relationships with members of the antiquarian book trade. This workshop is sponsored by Jarndyce Antiquarian Booksellers.
For full workshop descriptions and to register, please visit: http://conference16.rbms.info/workshops/. We look forward to seeing you in Coral Gables!
-Elizabeth Wilkinson and Christina Kasman